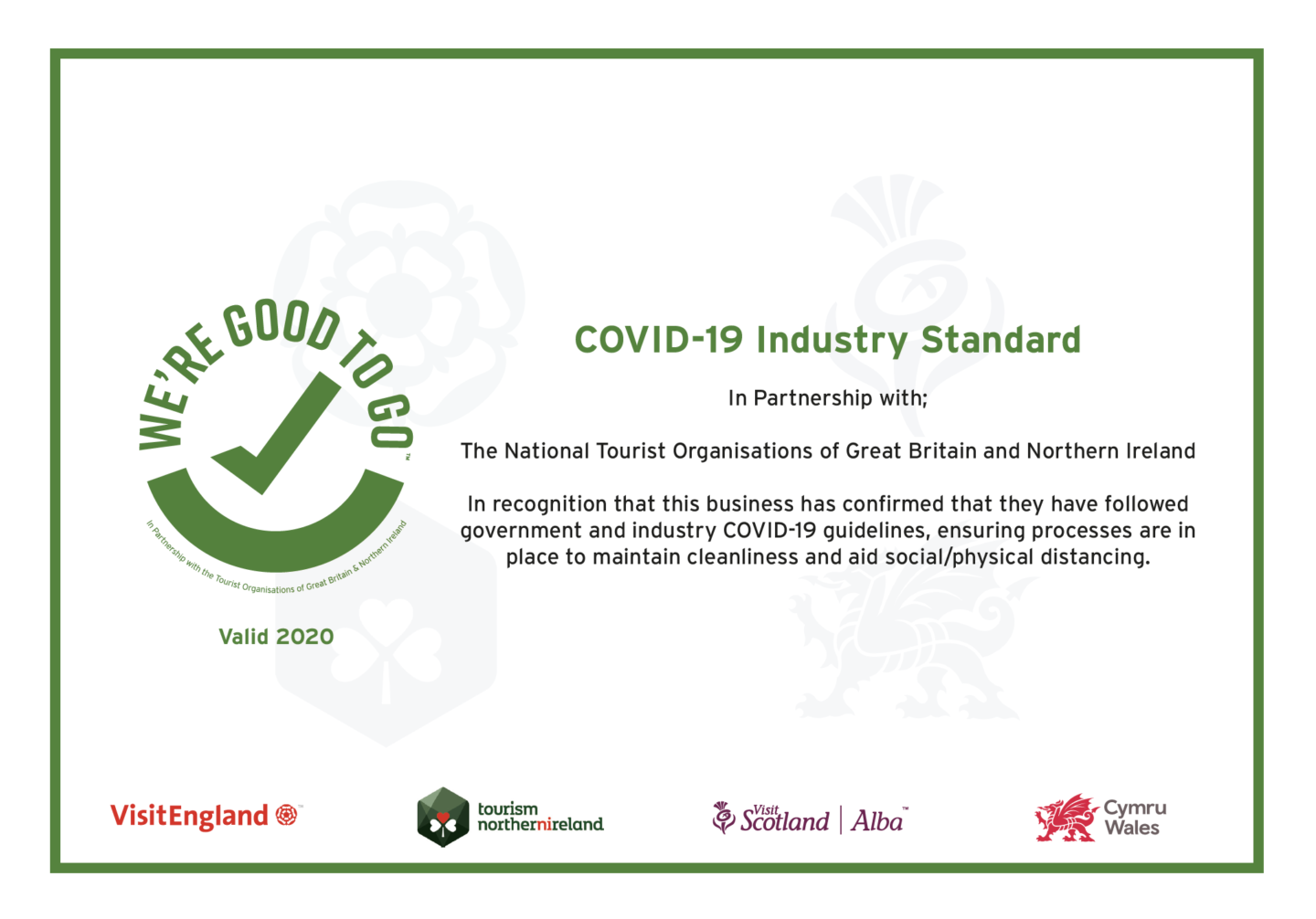 COVID 19 safety accreditation
Updated 1 September 2021
As a part of the global travel community, we've been following recent news of the Coronavirus (COVID-19) very closely.
We have acquired the 'We're Good To Go' certification awarded by Visit England our Official National Tourist Organisation. Bespoke England Tours has followed government and industry COVID-19 guidelines, has a Risk Assessment in place and a process to maintain cleanliness and aid social distancing, amongst many other steps taken to ensure the safety of our staff and guests.
We also recognise the increased uncertainty that COVID-19 may be causing in your own trip planning. To help you book with confidence, we remind you of our usual remarkable cancellation policy: free cancellation with full refund on all tours up to 24 hours prior to departure. For further reassurance you can book now via email and pay cash or card on the day.
Currently England is open with very few restrictions.
The main things to consider are:
- Requirements to enter the UK will depend on the country(ies) you've visited in the 10 days before arriving in England and your vaccination status. Please check full information with the British government website here.
- Rules differ for the four nations of the United Kingdom: England, Scotland, Wales and Northern Ireland so if you're visiting several of our nations please familiarise yourself with the differences regarding COVID policies. We are in London so English rules apply to all our England tours.
- Most venues in London and England require online bookings in advance to limit visitor numbers to facilitate social distancing so please do plan ahead.
- Face coverings are not compulsory outdoors or in most indoor venues, they are to be worn at the discretion of the individual but must be worn on public transport such as trains, the London Underground, buses, taxis and tour vehicles. We do kindly request the use of face coverings on our vehicles to guarantee the safety of our staff and customers, this is a legal requirement at present.
- We are now offering our full range of in person and virtual private tours.
All measures will be kept under review and people should continue to follow national guidance for England as set out by the government (see link above).
We are now taking bookings for all tours for 2022 also so if you'd like to lock in the price of your tours now, check the status of or book an experience please send us a quick email to info@bespokeenglandtours.com before booking your tour.
Remember our book now and pay on the day and free 24 hour cancellation policy available for all in-person tours.
Please keep following our Instagram and Facebook for Bespoke England Tours; write to us at info@bespokeenglandtours.com or call/ WhatsApp on +447877851513.
Be well and keep safe!